1,000 square meter solar roof laboratory with staff and workshop
Solar resource assessment and weather station with public website access
State of the art solar water heater test facility for student research and commercial projects
25 kW McDonnel Douglas Sterling dish
Utilities and control facilities to perform contract R&D on CSP optical systems

18 m flex use lattice tower
40 square meter aperture heliostat field for intermediate flux (~50 suns)
Other research laboratories
STERG owns a number of facilities situated within the Department of Mechanical and Mechatronic Engineering
1000 °C Kiln with automated quick charge/discharge capabilities
5 cubic meter, 3 ton, 600 °C thermal storage test facility
Differential Scanning Calorimeter capable of sampling to 700 °C
Software: Fluent CFD, ArcGIS, TRNSYS, FLOWNEX etc.
Further access to Departmental heat transfer and flow laboratories including multiple wind tunnel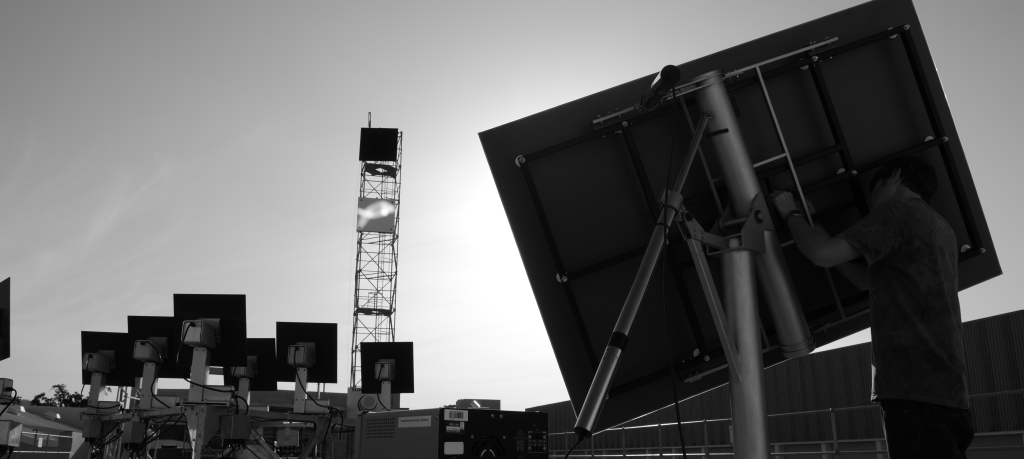 Stellenbosch University Renewable Energy Centre (SUNREC)
2 Hectare facility at Mariendahl experimental farm, enabling dual use of land and cross-discipline research
Available for SU post graduate students, affiliates and for contract research and testing
Electrified for multiple experiments including feeding into the grid
Reticulated water supply
Fenced for basic security
Helio100 heliostat R&D pilot system with secure control and storage capable of expansion and adaption. The Helio100 project is closed.
Full Solys tracker and weather station
Newly installed 15 kW single axis tracking PV system
Under construction: Packed bed thermal storage pilot with gas combustor designed to be retro-fitted to an air receiver

MinwaterCSP test facility
A full-scale test facility was purposely designed and constructed at Stellenbosch University to demonstrate the performance of a large diameter axial flow fan under installed conditions and to test and develop the water reticulation system of a deluge condenser cell (see above photo). The facility has the following general specifications:
24 ft fan rotor diameter.
The fan drive consists of a 10:1 parallel shaft reduction gearbox, in turn connected to a 132 kW (rated) electric motor (drive end) and variable speed drive (VSD) for controlling fan rotational speed up to a maximum of 150 rpm. The gearbox and motor are mounted on a slew bearing that enables measurement of the shaft torque.
The deluge system is quipped with an 18.5 kw pump that enables circulation of water to feed a ¼ quarter segment of a full deluge system.
For more information please visit the following link https://www.minwatercsp.eu/demo-sites/stellenbosch-full-scale-test-facility/