A lecture by Markus Balz, Managing Director, sbp sonne gmbh
Location: Pulp-Cinema, Neelsie, Stellenbosch University (Location)
Date: 14 November 2013
Time: 11h00 – 12h00
Invitation: All members of the university and public welcome (seating is limited – arrive early)
Lecture overview
Markus will present on his own projects and experiences in structural engineering, including his experience with the Moses Madhiba stadium in Durban for which he was awarded the 2012 World Stadium award for engineering excellence and his SolarPACES 2013 Technology award for the Ultimate Trough for parabolic trough CSP plants. Markus will also discuss other award winning projects at sbp and his view on what makes an engineering firm so successful. Lastly, Markus enjoys his travels to South Africa and he will share his views on where we could be headed if he had his say.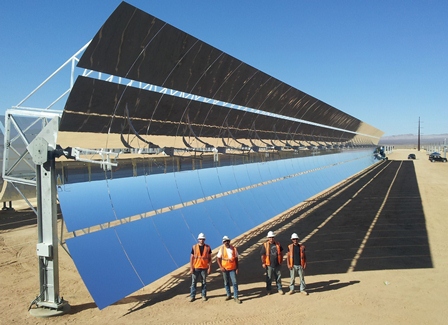 About Markus Balz
Markus Balz, structural engineer, born in 1970, is specialized on light weight structures and concentrating solar power collectors. After his degree at the University of Applied Science and the Institute of Lightweight Structures in Stuttgart, he did his practical semester at ABBA Space Structures (Consulting Engineers) in Johannesburg and afterwards worked with Buro Happold, in Bath, UK from 1998 till 2001. In 2002 he joined schlaich bergermann und partner and became Managing Director of sbp sonne gmbh in 2009.
His major projects include the project management and design of the Moses Mabhida Stadium in Durban for the World Cup in 2010 in South Africa as well as the development of several solar collector structures, the project management for prototypes, the design for the production of Parabolic Trough Collectors, Dish Stirling Systems, Fresnel Dish Systems, R&D for drive systems, central receiver systems and techno economical design theory for solar collectors.
Examples of realised projects in the area of CSP are the development of the parabolic trough collector "Ultimate Trough" – arguably the world's largest and most economic parabolic trough collector and the first large-scale solar thermal power plants in Europe – the Spanish parabolic trough plants Andasol 1, 2 and 3, currently – as well as numerous other parabolic trough plants in Spain, India, the USA, and Egypt.